Version 2
In addition to the features listed below of SpySites Free Version, SpySites Plus has the following advantages:
Cookie Monitor: When you're surfing the Web and Cookie activity (New or Modified) is detected a Popup Window will appear in the lower right corner of your screen and will remain visible for 5 seconds. Then you can add to the database, Restricted Zone and block any further attempts from the page "On the Fly". Typing in the information is done for you. You donít have to enter anything unless you want to.

Cookie Scanner: This option will scan all your Cookies for over 100 of the most commonly used Spyware and Tracking Cookies. When matches are found they are added to the list for easy deletion.

Cookie Manager: Shows the Cookies that are installed on your PC, who installed them when they expire, etc. Any or all can be added to the Restricted Zone.

Page Scanner: Using the Page Scanner lets you know ahead of time or while you're visiting the site what type of Objects/Scripting they use. These items include JavaScript, VBScript, Applets, ActiveX Controls, Embedded Objects, Redirects, Script to get your Browser Version and IP Address and more.

Restricted Zone Manager: The manager display a list of all Sites you have in the Restricted Zone and allows for quick removal when necessary.
New features in version 2:
Option to toggle Popup Cookie Notification on and off.

Over 40 new Cookie types to scan for.

Streamlined operation-no need for the main Window to appear every time you add a site to the Zone. Now when adding a site you will just get a confirmation message.

Clicking the "Add the Selected Site to Restricted Zone" button now adds the site to the Zone AND deletes the Cookie.

Fixed several minor bugs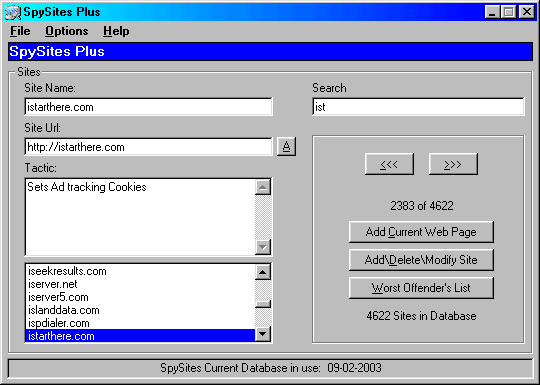 | | |
| --- | --- |
| Featured in the November, 2003 issue of PC World | |
Purchase Options
Single PC License
$19.95
Multiple PC licenses
2 Licenses
$36.00
5 Licenses
$89.00
10 Licenses
$159.00
20 Licenses
$279.00
Site License
$499.00
Download immediately after ordering
Purchase options at the above links are by credit card, mail order, phone or fax call: 1-877-353-7297 (Toll Free), 1-425-392-2294 (International)
---
When database updates are released they will be available here and announced in the Newsletter
---

Stop Web Sites from installing Spyware, Sleazeware and Cookies on your PC
SpySites includes a database of over 4,600 known Spy/Sleaze sites and guides you through the simple process of including them in Internet Explorer's Restricted Zone and setting policies to prevent them from performing intrusive acts on your PC. By setting the policies for the Restricted sites zone to a very high level of security, you can be assured that any web sites added to the Restricted sites zone cannot do certain things which could compromise your privacy and security such as installing and/or running:
ActiveX controls

Java applets

JavaScript

Cookies

Download and installation of Desktop items

Use of email address as anonymous FTP password

Hijacking your Home page and/or Search page

Installing their "Sleazeware" without your knowledge
Internet Explorer's Restricted Zone can be extremely effective blocking these actions but Microsoft's Help file doesn't explain exactly how it works, what it does or how to use it. By using SpySites to set policies you will prevent sites from intruding on your privacy and possibly taking over your PC. Those annoying popups may still appear but their ability to set Cookies or perform other actions on your Computer will be blocked.
When database updates are released they will be available here and announced in the Newsletter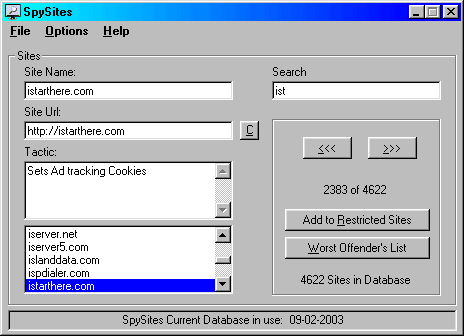 For even more Protection try Spyware Inoculator